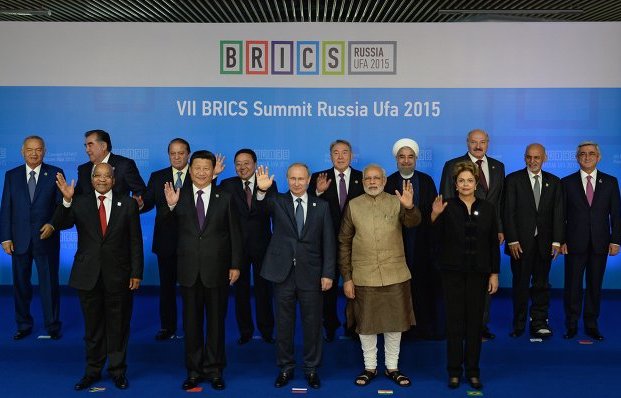 On July 8 - 9, 2015, Ufa (Bashkortostan) hosted the BRICS and SCO summits, the key to Russian organizations. Our company was responsible for the accompanying of Pakistan and Brazilian delegations.
The event had special significance both for Russia and the world as a whole for two reasons. Above all, recently the BRIC and SCO have been considered by the attendants of the geopolitical arena as a real alternative to Western organizations. Then, two major world summits have been held in conjunction for the first time.
The BRICS and SCO summits were attended by the presidents of over 15 countries, including the largest world states, as well as hosted dozens of formal sessions, meetings, and treaty signings. It is hard to imagine the total amount of work performed, which made it possible to hold the event.
We took responsibility for a comfortable stay of Pakistan and Brazilian delegations, ensuring that they had everything. Transportation, mobile communications, presentation equipment, simultaneous interpreting equipment, etc. Each delegation was given a personal manager, who was ready to solve all organizational issues around the clock.
Foreign participants of the BRICS and SCO were to discuss the most important issues related to a new stage of development of the organizations. For instance, Pakistan commenced to undertake the joining to the SCO, while the Brazilian delegation, headed by President Dilma Rousseff, discussed with Mr. Putin his position on sensitive political and military and technical issues.
Following the official part, the guests from Pakistan went on sightseeing tours around Ufa.
For your information:
BRICS — is an abbreviation combining five countries: Brazil, Russia, India, China, and South Africa. BRICS countries are developing economies and, according to some estimates, could overtake G8 countries in 2050.
The Shanghai Cooperation Organization (SCO) is a permanent regional international organization founded in June, 2001 by the leaders of Kazakhstan, China, Kyrgyzstan, Russia, Tajikistan, and Uzbekistan.
The initiative to hold the BRICS summit in conjunction with the SCO summit on July 8-9, 2015 in Ufa was taken under the influence of two crucial arguments: simultaneous meetings of a larger number of participants, and reducing of financial burden associated with the execution of such events
Feedback on the project
«The Brazilian Embassy in the Russian Federation presents its compliments to OOO "Polnaya Chasha" and, hereby, expresses its gratitude for the services, rendered to the Brazilian Embassy in the course of BRICS Summit in Ufa (Republic of Bashkortostan), in particular for technical support, conducted by the company staff members.»